INQUIRY INTO CHILD SEXUAL ABUSE
FIRST REPORT
CHILD MIGRATION PROGRAMMES, MARCH 2018
On 1st March 2018, IICSA released its first report on the Child Migration Programmes that occurred within the UK for decades.  The report is 174 pages long, so I have outlined the contents, findings, institutions involved, problems that occurred etc.
It made shocking reading.
---
CHILD MIGRATION PROGRAMMES BACKGROUND
For those that aren't familiar with what these were – In short UK governments were taking children in orphanages from the ages of five onwards and sending them overseas to places such as Australia, New Zealand, Southern Rhodesia (now Zimbabwe) and Canada.  Despite promises of oranges and sunshine and happy lives, many children became part of a conveyer belt of slave labour which included torture, neglect and abuse within a system so flawed that they were left exposed to predators.  The deception that occurred is also part of the scandal, as many children were told they were orphans, and many relatives were told their children had been adopted or had died.  People – young and old – went to their graves believing a web of lies peddled by the authorities.  You can read a little more about it in a previous blog post.
Those who survived to tell their tale appeared in front of the IICSA panel and gave moving testimonies of the abuse they endured, which has enabled IICSA to compile this comprehensive report.  I urge you to read the first few pages (namely pages 5-8) which are the testimonies of Michael O'Donoghue and Marcelle O'Brien.  They give a shocking insight into the sadistic nature of the UK children's home regimes, as well as the awful treatment children endured when sent thousands of miles away.  It's heartbreaking.
Child migration was also considered to be more cost effective than keeping children in residential homes in Britain (although we have doubts about whether that was actually correct).

Investigation Report – March 2018
Sadly, it's not that dissimilar to the Tvind scheme that ran during the 1980s, where children were sent overseas by some London social services departments.  You can read my blog post about it here.  Despite requests, none of the local authorities concerned would provide any further information.
---
WHO WAS INVOLVED?
The agencies involved in 'sending' children in the migration programmes were mostly voluntary organisations, with a small number being migrated by local authorities. Some organisations, such as the Fairbridge Society and Barnardo's, operated as both sending and receiving institutions, providing schools and homes in the country of migration. Others migrated children to institutions run by other organisations. From evidence available to the Inquiry, there was a sense in which these children were treated by some of the sending institutions as 'commodities' with one institution even referring to its 'requisition' for a specific number of children to be sent to Australia.

Investigation Report – March 2018
(Organisation and total amount of children they migrated)
Barnardo's – (32,806 children)
The Fairbridge Society – (1,602 children)
The Children's Society (previously known as Church of England Incorporated Society for Providing Homes for Waifs and Strays) – (3,296 children)
The National Children's Home (AKA Action for Children) – (3,600+ children approx)
The Royal Overseas League – (804 children)
Cornwall County Council – (between 33-58 children)
The Salvation Army UK – (250,000 children, adults and families approx)
The Church of England Advisory Council for Empire Settlement – (408 children)
The Sisters of Nazareth – (1,103 children)
Father Hudson's – (132 children)
The Catholic Church – (11,073 children)
The Children's Friend Society (sent children to South Africa)
Quarrier Homes
Catholic Child Welfare Council
Southwark Catholic Rescue Society
London Council for the Rhodesia Fairbridge Memorial Association
Children were sent overseas from the UK, Wales and Northern Ireland (the latter of which was looked at in the Historical Abuse Inquiry, NI.)
However, the overriding force behind the scheme was, of course, the British government who had agreed with the Australian Commonwealth Government to send 50,000 children following the Second World War.  The Australian Government wanted to use the programme to increase the white population (and labour capacity).  It is the British government, this report concludes, whom systematically ignored the suffering of the children despite playing the central role in the programme.
Following a 1998 review undertaken by the House of Commons Health Select Committee, Gordon Brown (then Prime Minister) made a public apology to former child migrants.
---
WHERE WERE CHILDREN SENT?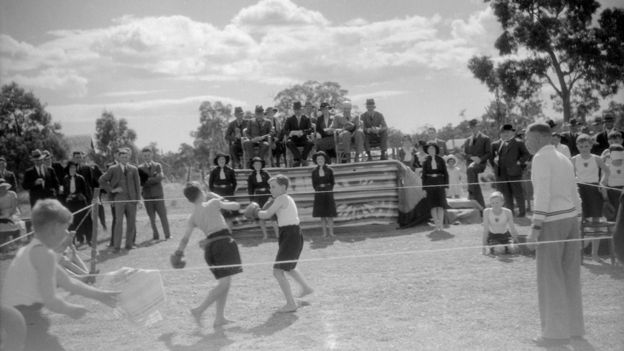 Between 1947-1965, 3,170 children were sent overseas as part of the programme.  Around 400 of those were sent by local authorities, the rest were sent by organisations.
Receiving institutions in Australia
Fairbridge Farm School, Molong
Fairbridge Farm School, Pinjarra
Northcote Farm School, Bacchus Marsh
Barnardo's School at Picton
Barnardo's School at Normanhurst
Drapers Hall
Methodist Children's Home, Magill
Dalmar Children's Home
Methodist Home for Girls, Perth
Nazareth House, Geraldton
Nazareth House, Camberwell
St Joseph's Orphanage, Neerkol
Casteldare Boys' Home
Tardun Farm School
Clontarf Boy's Orphanage
Bindoon Boys Town
St Vincent de Paul's Orphanage
Receiving institutions in Canada:
Receiving institutions in New Zealand:
The Royal Overseas League sent 549 children to foster care in New Zealand.
Receiving institutions in Southern Rhodesia:
Rhodesia Fairbridge Memorial College
Once they arrived overseas, legal guardianship for the child would transfer to the national governments of their respective country, then to the provincial/state government, more particularly their child welfare departments. In practice, responsibility then devolved to the particular institution's staff.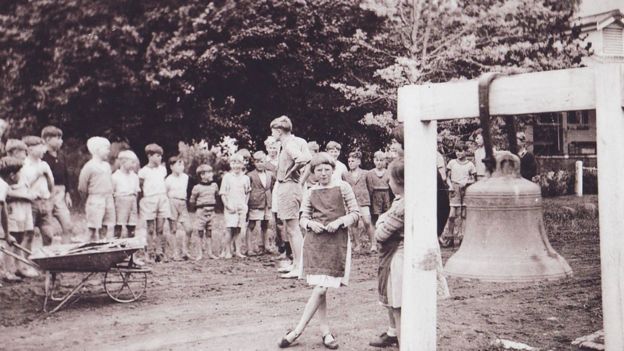 ---
THE PROBLEMS THAT AROSE:
Under the Empire Settlement Act, 1922 (ESA), the UK government pledged to provide funding for the cost of children's journeys as well as a maintenance element until they were 16-years old.
The ESA was renewed periodically until 1972, despite concerns raised in 1942 following an inspection in Western Australia by Sir Ronald Cross, who reported that he could not understand where the money was going, given the poor clothing the boys were wearing.
In respect of Australia, some of the programmes, including those operated by
the Anglican and Catholic churches, used a 'group nomination' system, whereby a
residential institution in Australia would send a request for a certain number or gender of children for migration, thus the children were considered as 'commodities', not as individuals within the 'care' system.
Diplomatic relations came first…
The Fairbridge Society became a highly regarded operator in the migration programmes with patrons including high-profile individuals and members of the Royal Family, as well as a close working relationship with the UK government.  This seemingly worked to the Society's advantage as not only did it receive advance notice of the contents of a report, but also Lord Dodds-Parker (Under Secretary of State for Foreign Affairs and a strong advocate for Fairbridge on the Overseas Migration Board) lobbied the Home Secretary for an increase in funding.
Concerns arose and so the UK government sought to educate those countries as to methods of care.  However, this seemingly wasn't successful as reports were received that were extremely critical of the conditions within the receiving homes.  This then led to a 1956 'blacklist' of institutions that should no longer be used.
The government was loathed to upset the Australian government nor institutions such as Fairbridge and Barnardo's by withdrawing funding and so the 'blacklist' of schools that had been drawn up in 1956 was effectively suspended so that Fairbridge children could be migrated as planned, even to schools on that list, and financial support and use of facilities continued until 1972.  There is a possibility of an intervention by HRH the Duke of Gloucester (then Fairbridge Society President), however the inquiry found no evidence to back this claim.
---
EXAMPLES OF PERSONNEL FAILINGS:
Alfred Owen (who ran a Barnardo's receiving home in Canada) had been convicted of sexual interference with girls in his care.  Barnardo's sent out a female senior manager in 1889 to investigate the facilities, whihc led to a recommendation that locks should be put on bedroom doors and chaperones provided when girls were in vulnerable situations.
1940 – Mr Beauchamp (Principal at Fairbridge school in Molong, Australia) was told to resign after allegations that he had failed to prevent "immoral and perverted practices….on a serious scale".
Late 1945/early 1946 – Fairbridge UK was informed that a girl had made very serious allegations of sexual abuse against the new Principal at Molong, Mr Woods, which was also brought to the attention of a local parson. The police were involved, but a report later exonerated Mr Woods, praised Fairbridge and described the allegation as "can only be put down to the sexual stirrings of a hysterical adolescent mind".
Early 1948 – Several allegations were again made against Mr Woods, relating to physical abuse, books with a sexual content and "other matters too dreadful to mention."  Sir Charles Hambro of Fairbridge UK responded: "Having seen the school in operation I cannot believe that there is any real basis for these allegations against Woods, and I shall not accept them until proven beyond doubt, but where there is smoke there may be fire, and it is our duty to make quite sure that the fire is completely extinguished. You could not have taken a wiser step than to do what you did"
1947 to 1968 – 'Common Rules' that applied to the Christian Brothers order included: Brothers were not permitted to have particular friendships with pupils, touch pupils on the face or otherwise fondle them or allow boys into their room.  Thus proving that if it was necessary to include such a condition, authorities already knew there was a problem.
Early 1940's – Mr Rogers (Duties Master at the Fairbridge school in British
Columbia) was dismissed following allegations of improper behaviour, then
re‑hired, but dismissed again after he was convicted of "immoral relations" with
Fairbridge boys and imprisoned.
1950 – Fairbridge UK was notified of an allegation that a girl had been abused on a ship whilst on the journey to Australia, but did not "appear to have left any mark on her mind."  A subsequent investigation concluded that she was "somewhat mentally retarded."
1955 – A Picton housemaster, was dismissed on the grounds of suspicion of "indiscreet fondling" of boys at the school.
1956 – Two child migrants raised described Riverview as being "a kind of Borstal."
1958 – Concerns were raised that 23 boys mainly aged between 18 and 21 were potential victims of "serious sexual malpractices" by several individuals related to the Barnardo's school at Picton.  It is clear that information about these issues was
circulated among members of the UK government, which included: members of the UK High Commission in Australia, the Home Office and the CRO.  There had been some guilty pleas by the alleged perpetrators. The matter became known to MP Nigel Fisher who referred in correspondence to a "really rather bad case of sodomy between a teacher and boys at one of the Barnardo's Schools in Australia".
1958 – Seven boys wrote with concerns about Riverview, which led Commissioner Ebbs (Salvation Army UK) to write to Colonel Cooper in Sydney.
1960 – An allegation was made that a child in the UK had been "interfer[ing] in a homosexual way" with four other children, prior to migration by Barnardo's.
1962 – Mr Phillips left his role as Molong Aftercare Office in 1962, "amid rumours of sexual abuse of children" against him and Edward Scott (although there was no documentation provided about Scott.)
1963 – Mother withdrew her children from Molong and made a written complaint after discovering a cottage mother had admitted flushing a child's head down the toilet to correct the child's bedwetting, and a riding crop had been found which the children said she whipped them with.
1965 – Mr Woods was dismissed from Fairbridge following concerns about his punishment of children.
1967 – Mr Jack Newberry, who had become Acting Principal of Fairbridge at Molong, was  "investigated following a series of allegations of sexual abuse and forced to retire" and that "Stories circulating about Newberry's sexual perversities would be confirmed by a number of Fairbridge girls years later."
Evidence was seen regarding children in Rhodesia who had been sexually abused by Padre Dean and reported the issue to the headmaster, which enraged him and led to their being beaten and warned against spreading malicious lies.
Action for Children was also made aware of a small number of complaints about
child sexual abuse at Alverstoke, which has been reported to Operation Hydrant and remains under investigation.
The Australian Royal Commission's report into the three Salvation Army homes (including Riverview) made findings of very serious incidents of sexual abuse over an extended period of time. It also noted a culture of violence, an inadequate inspection regime, a culture of discouraging disclosure of abuse and evidence of the Salvation Army moving offending officers between different children's homes, sometimes to protect its own external reputation, and potentially due to the religious devotional culture within the Army.
One former child migrant alleged sexual abuse during the train journey to the boat. The alleged perpetrator was Canon Flint, who had a heavy involvement in the scheme and in three different Catholic organisations.  Although Canon Flint was known to have been deceased since 1982, the matter was reported to Warwickshire Police and the former child migrant's solicitor informed.
Eleven men gave oral evidence at the hearings to the Australian Royal Commission, during which they made allegations of sexual abuse against sixteen Christian Brothers. The Commission found that that in each decade from 1919 to the 1960s, there were allegations of child sexual abuse against Brothers, about which the Provincial Council knew; and that in each decade from the 1930s to the 1950s, allegations were raised against Brothers against whom there had been previous allegations. It concluded that the leadership of the Christian Brothers from 1947-1968 had failed to manage the institutions so as to prevent child sexual abuse.
Some time after 1989, the ACMP received in the file of a former child migrant an enclosure to a letter from the Provincialate of the Congregation of Christian Brothers in Bath, which stated that the former child migrant and some others were sexually abused by a Brother in Australia, and that a teenager also abused younger boys at the school, as well as a book extract referring to physical and sexual abuse by a Brother. The ACMP assisted in family tracing but no formal report was made.
In 1990, a former child migrant wrote a letter to Canon Flood alleging sexual and physical abuse by Christian Brothers in Australia.
In 1994, there was reference in a newspaper article to a Christian Brother accused by a former child migrant of sexual abuse.
In 1995, a former child migrant stated that he had spent nine years in institutions where he was physically and sexually abused.
In 1995, a former child migrant met a Father Hudson's worker to review his file, which stated that the individual had been badly physically and sexually abused in Australia.
In 1998, the sister of a former child migrant stated that her sister had been sexually abused and whipped in the cellars before being sent to Australia.  The sister had been at a Nazareth House home prior to going to Australia.
In 2002, a former child migrant wrote a letter to the Professional Standards Resource Group in Western Australia stating that he was sexually assaulted by a man while in the care of nuns in England. The allegation related to a gardener at a Nazareth House home in England.
In 2009, a former child migrant reported harsh treatment by nuns in Australia and rape by a gardener/handyman.
Of course, it wasn't just those in a position of authority that abused, the inquiry also heard evidence about peer-on-peer abuse as well as outside visitors abusing children.
In 1999, a former child migrant disclosed that he had been sexually abused by older boys within the RFMC.
In 2000, a former child migrant alleged that, prior to his migration, a visitor to the children's home at Painswick perpetrated sexual abuse on other children. He recalled that the visitor was spoken to and his visits ceased.
One former child migrant claimed she had been raped at the age of five by an eight year old boy living in the same home.
Another stated he was sexually abused by a 14 year old boy when he was around the same age.
A further former migrant alleged that children were sexually abused by an older boy in Magill.
In 1961 a child migrant, who was by that time a young adult and who wanted to return home, was referred to in a letter, which stated that when he had gone to the Marist Brothers, another religious order, he had "interfered with" some of the younger boys in the college and was dismissed. He then went to Clontarf and Bindoon, and was again found to be interfering with younger boys.
During the Catholic church's migration period, one child migrant alleged sexual abuse on the ship on the journey to Australia. The matter was reported to the ship's Captain, and in a letter to Australia House, the shipping company said that they had considered prosecution but this was not possible, so the perpetrator had been given a "bad discharge" and all practicable steps had been taken to prevent him from being re-engaged on any other ship.  In Australia the boy saw a doctor at the Psychiatry Clinic, who advised that he be placed in a normal family with grown up boys and girls.   The response of the CCWC in the UK was simply to investigate whether the boy's mother in the UK would take him back: she was happy to do so but needed financial assistance for the return passage, which the CCWC declined to provide.
---
FINDINGS
…children had been treated worse than he had been as a prisoner of war.

(Reaction of a parent after visiting Fairbridge, Molong)

Investigation Report – March 2018
No evidence was seen that migration ended specifically because the UK government decided to put a stop to it.
The last child was migrated to Australia in 1970. Most, if not all of those children who had been migrated, remained within their receiving institution, despite the concerns that had been raised about the appalling conditions in which many of them were accommodated.
Overall, there was evidence of sexual abuse of child migrants in 16 Australian institutions.
Several witnesses recounted that they had been abused prior to being migrated, while still in institutions in England. Two said that they believed they may have been sent to Australia because they had reported their sexual abuse in this country.  Another said they had been abused whilst on the ship to Australia.
After 1970, those children who had been migrated generally remained where
they were. There was no evidence of efforts made to seek the return of the children. Matters seemed to go "silent" until Dr Humphreys and the CMT sought to bring matters to the public attention in the late 1980s.
UK government accepts that it had knowledge that some former child migrants reported that they had been the victims of sexual abuse from at least 1989.
Evidence was heard that Fairbridge UK knew of the alleged sexual abuse of child
migrants in both Canada and Australia from as early as the late 1930s.
In 1949 a damning report in Canada outlined a high pregnancy rate in ex-Fairbridge girls, which described the school as of being "in ill repute", and concluded:  "unsatisfactory staff are largely to blame for the present state of affairs."
Some school inspections conducted by the local Fairbridge Committee members  were carefully "staged" affairs.
Mr Nigel Haynes, Director of Fairbridge from 1993 to 2008, was unable to explain why a misleading statement denying the existence of records mentioning abuse was going to be put out to the press.  He also reiterated to the inquiry that Molong was "independently managed by an Australian body and not accountable to the UK", which the inquiry has found to be false.  More worryingly,  during the litigation against Fairbridge in Australia, the reverse position was argued – that London was responsible for the Fairbridge operations in Australia.  This has led the inquiry to conclude that both sides of the Fairbridge organisation were trying to distance themselves from responsibility.
In the case of Father Hudson's, some child migrants that in 1947/1948 were sent before there was a written maintenance agreement in place. This fits with the wider evidence that at times the focus of the Catholic Church migrating organisations appears to have been to migrate children as quickly as possible, which may have operated to the detriment of the individual children.
In the case of the Catholic Church,  there is evidence that Brother Conlon knew of some of the allegations of sexual abuse by the Christian Brothers.
In a book by Jim Hyland (former Chairman of CCWC), he described it as a "regrettable omission" that nobody from the CCWC or the CoR had been dispatched "to Australia to carry out its own investigation into arrangements and the standards of care provided".  This was a serious failure.
Child migration was a fundamentally flawed policy, and the UK government failed to ensure that there were sufficient measures to protect children from abuse and neglect.
The UK government has not yet made any financial redress directly to former child migrants without delay and that payments should start being made within 12 months.  It is essential that all surviving former child migrants are offered such redress.
It has taken successive British Governments far too long to acknowledge their full responsibility for the fate of the child migrants despite the truth being clear from the Government's own documents, kept in the National Archives.
---
ACKNOWLEDGEMENTS/APOLOGIES
Many of the institutions involved in child migration have apologised for their role in it, some more fulsomely than others, and some for the first time in evidence before IICSA.
Fairbridge has made no apology, and there is evidence that it made a conscious decision not to apologise "as it did not consider that it had anything to apologise for".  Mr Nigel Haynes had no recollection of such a discussion taking place within Fairbridge, and made a personal apology in evidence before the inquiry.  The Prince's Trust stated that at the time of the merger, Fairbridge had not given them the "full truth" on the amount of complaints by former child migrants about their treatment and stated that Fairbridge's approach (in never having apologised) was "absolutely shocking".  An apology was made on behalf of the Prince's Trust  "for the hurt and suffering experienced by victims and survivors", and the Trust would now be considering whether it should still use the Fairbridge name.
The Children's Society's response to individual allegations has been adequate and it has offered support as appropriate and took relevant action.  In June 2017, Mr Reed (CEO of The Children's Society) made a public apology on behalf of the CS, which he reiterated at the outset of his evidence to the inquiry, accepting that it was long overdue.  It has not provided any compensation to former child migrants.
The Royal Overseas League has never been approached for compensation or redress to any former child migrants for any reason, including for sexual abuse.
Cornwall Council has not been involved in any previous inquiries, participated in any other redress schemes, or paid any compensation to former child migrants. In September 2010, Cllr Neil Burden gave an apology to former child migrants.
In response to the UK government's 2010 apology, the Salvation Army UK produced a statement referring to the apology given in 2004 by the Salvation Army in Australia to former residents who had been subjected to any form of abuse, which was reiterated in 2009 but has not provided any compensation or redress to any child migrant.
The Sisters of Nazareth and Catholic Children's Society (Westminster) co-funded a counselling scheme, contributed financially to an Australian redress scheme and apologised to former child migrants.  They have not provided any compensation.
Father Hudson's remains proactive in taking allegations seriously and reporting them to the police.  It has funded a social work service but no compensations has been paid nor has any apology been forthcoming until evidence was given to the Inquiry, at which point they issued a formal apology.
The Catholic Church has put in place administrative procedures for tracing families, records disclosure etc.  They derived a 'Statement of Intent' as well as created the Child Migrant Database, put practical support in place and offered numerous apologies, including another whilst giving evidence to the Inquiry.  However, no compensation has been paid, and although information was given about what has been provided in Australia, the Inquiry concluded that overseas actions should not be used by institutions in England and Wales to avoid responsibility.
Through the national apology given in 2010, the evidence and apologies provided to the Inquiry, the British Government has now accepted the failings of the child migration programmes.
---
FILES
The Prince's Trust, which now has responsibility for the Fairbridge Society archive, provided a substantial amount of archive material.  However, all the files from the Fairbridge Child Welfare Sub Committee from 1958-1982 are no longer in the archive, and it is believed that they were missing at the time the Prince's Trust acquired them.
Major General Roderick Porter explained that there are virtually no records of The Royal Overseas League migration activities, apart from its annual reports, still in existence, and that there is no record of where any records were kept, whether they were disposed of and why.
Father Hudson's has not been able to locate any reference to safeguarding policies or procedures from 1945-1974, nor any documents concerning the monitoring of
child migrants' welfare.
Investigation of allegations or evidence of sexual abuse within child migration programmes was hampered at times by the failure of some institutions, notably the Royal Overseas League and the Sisters of Nazareth, to have preserved the contemporaneous documentation.
Due to the inability to access their records in a straightforward manner, or at all, has caused some child migrants further distress and it is recommended that all institutions which sent children abroad should ensure that they have robust systems in place for retaining and preserving any remaining records that may contain information about individual child migrants, and provide easy access to them.
---
FURTHER KEY POINTS:
The Fairbridge Society ceased involvement in child migration in the early 1980s.
Fairbridge has provided no support, counselling, financial support or reparation to former child migrants because, according to Mr Haynes, its charitable funds had to be used for its current core work.
Unlike other institutions, in 1950 the National Children's Home sent selected Sisters (who had been trained and had worked with children in the UK) to accompany parties of children to Australia; stay for three years to assist the children, travel to meet others; and look at what the standards in Australia were and report back to the UK.   These reports (while relatively positive about the children themselves) were critical of the harsh conditions in Australia.
The Royal Overseas League resumed migration to Australia post-war in 1947, but without Government approval.
The 'Forde' Inquiry had observed that the child sexual abuse at the Catholic Church's St Joseph's orphanage, Neerkol was perpetrated by a range of persons, including workers, visitors and priests.
Lost Innocents Report, 2001 concluded that "the four Christian Brothers institutions in Western Australia stand out as the most culpable in their duty of care in relation to the physical and sexual violence that occurred within them."
In his 1993 book, 'The Scheme: The Christian Brothers and Childcare in Western Australia', Brother Barry Coldrey concluded that the Christian Brothers' archives provided strong evidence of five Brothers who had committed multiple acts of sexual abuse, and a further six who had admitted committing single offences.
Brother Coldrey produced a further report, 'Reaping the Whirlwind – The Christian Brothers and Sexual Abuse of Boys 1920 to 1944′ which suggested that awareness of sexual abuse among staff at these residential institutions extended to the operation of 'sex rings' in three of these Western Australian residential institutions, in which Brothers collaborated with one another in their activities, assisted and covered for each other, and may have shared the same boys.
In 1951, HM The Queen Mother – the Queen – became involved in trying to get one little girl back home to England.  This led to inquiries in the UK and Australia, but it was futile.
---
UK HOMES NAMED WITHIN THE REPORT:
Painswick
Alverstoke
Trenovissick Home, Cornwall
---
FURTHER READING: